3 Axle 40cbm 50000 Liters Crude Oil Tanker Semi Trailer
3 Axle 40cbm 50000 Liters Crude Oil Tanker Semi Trailer
zw-trailer

Shandong

35 days

150 sets
The 3 axle 40cbm oil tanker semi trailers are used to transport oil, diesel, gasoline, kerosene and so on. Compared with the conventional single tanker, our 50000 litres oil tanker semi trailers effectively improve the transportation efficiency. Under the same tonnage, our crude oil tanker trailers reduce transportation costs and cut fuel consumption.
The 3 axle 40cbm oil tanker semi trailer is mainly used for large oil transportation, and the tonnage is generally about 40 ~ 60 cubic meters. Oil tank semi-trailers usually include: two-axle semi-trailers and three-axle semi-trailers. The square tank body of the oil transport semi-trailer is made of Q235A steel plate.
The rear part of the 50000 litres oil tanker semi trailer is roughly the same, with the rear double axle and the rear three axles. Choose the truck head according to your needs.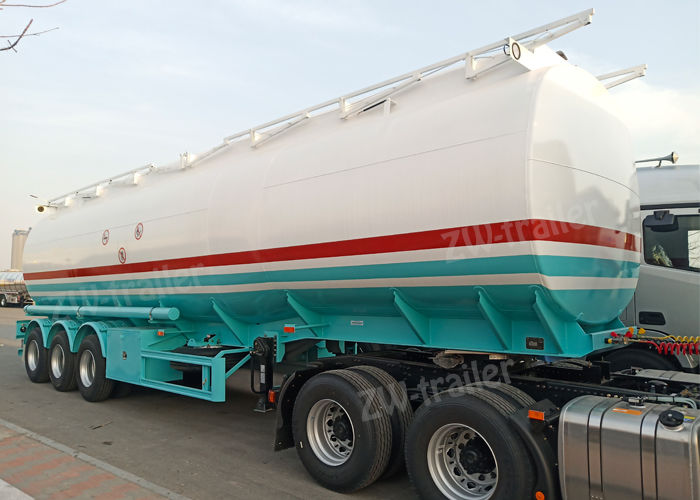 Crude oil tanker trailer tank body:
1. The tank is made of 4mm or 6mm high-quality carbon steel produced by the iron and steel company according to national standards. The shape of the tank is divided into elliptical or square round which can hold 1-4 kinds of oil products. Can also produce heating and insulation series of tanks.
2. The alcohol and chemical tank trucks are made of imported stainless steel with a thickness of 4mm-5mm.
3.Install the pump oil system, take power from the gearbox side through the power take-off can self-suction and self-draining; with two oil sucking pipes, equipped with quick-fitting joints, and the suction stroke is 6 meters. Two fire extinguishers and special tools. The oil tanker semi trailer is divided into two parts, the oil tank body and the skeleton or bracket supporting the tank body.