Tri Axle Stainless Steel Milk Fuel Tanker Truck Trailer
Tri Axle Stainless Steel Milk Fuel Tanker Truck Trailer
zw-trailer

Shandong

35 days

150 sets
Tri axle fuel tanker truck trailer tank body is made of high quality 4mm or 6mm carbon steel according to national standards. Zw trailer group can also produce heat preservation series tank for chioce.
Alcohol and chemical tank trailer are made of imported stainless steel with 4mm-5mm thickness.
There are multiple anti-wave barriers in the tank adopt with high-pressure gas leak detection make the tank have high strength, stable center of gravity and stable transportation.
It can be selected according to the purpose of tri axle fuel tanker truck trailer choiced with centrifugal pump, gear pump, stainless steel pump which own characteristics of large flow rate and fast suction speed.
Tri axle fuel tanker truck trailer is mainly used for large oil transportation which tonnage is about 40-60 cubic meters.It divided into two axles, three axles and four axles.
Most of the milk tanker trailer is made of carbon steel and aluminum alloy materials.The carbon steel tank body is treated by rust protection and aluminum alloy tank body by contraries.Tri axle fuel tanker truck trailer valve adopts domestic well-known brands that make the trailer own good sealing characteristic.The rear and top parts stepped on equipped with aluminum alloy anti-skid plates can better avoid the occurrence of slipping accidents.Side of the fuel tanker truck trailer is equipped with fire extinguisher can be quickly taken out in an emergency.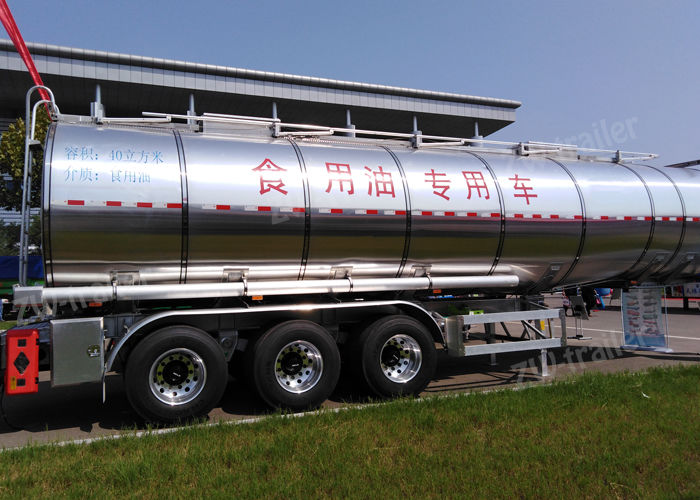 The advantages of aluminum tank oil semi trailer compared with carbon steel tank trailer:
1. The self weight of the carbon steel tank semi trailer is generally about 10 tons while aluminum alloy tank trailer is minimum about 6.6 tons thereby reducing daily operating expenses and maintenance costs.
2. Fuel tanker truck trailer will not rust for several years after aluminum oxide is formed on the surface of the aluminum alloy, which directly guarantees the oil transportation quality.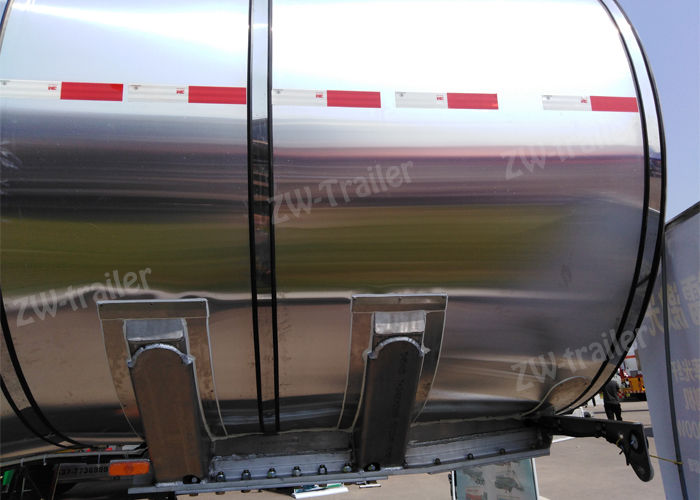 3. Aluminum alloy tank body is helpful to conduct the static electricity generated in the process of oil loading and unloading in transportation on time.
4. Milk tanker trailer tank body can keep bright and beautiful with good corrosion resistance.