Three Axle 48 Ft 40 Ton Flatbed Semi Trailer
Three Axle 48 Ft 40 Ton Flatbed Semi Trailer
zw-trailer

Shandong

35 days

150 sets
Sophisticated technology: the main components of the three axle flatbed trailers are processed by advanced equipment, the longitudinal beams are welded by fully automatic tracking submerged arc welding machine; the parts of the vehicle are shot peened, which greatly increases the adhesion of the paint, and the assembly parts are painted first and then assembled Craftsmanship.
The three axle flatbed trailer's frame is a space frame structure composed of welded longitudinal beams made of 16Mn automotive steel plates and high-strength steel plates and integral through beams. The structure is reasonable and the bearing capacity is strong.
Axle: Use imported or domestic high-quality brand axles, and choose the ABS anti-lock brake system of well-known brands at home and abroad to improve the driving safety of the vehicle.
Three axle flatbed trailer, also known as construction machinery transporters, flatbed truck trailers is mainly used to transport some non-removable objects like excavators, loaders, and harvesters. Three axle flatbed trailer is common large trucks in daily life. Such trucks are generally widely used in factories, construction sites and other large production or engineering locations. The strong load-bearing characteristics of flatbed trucks have played an important role in the economic development process. Suspension system: Three axle flatbed trailer adopts a unique new suspension system with high strength and strong impact resistance. The patented tie rod fixing structure ensures that it will not be loosened during frequent bumps, effectively reducing tire wear and extending service life.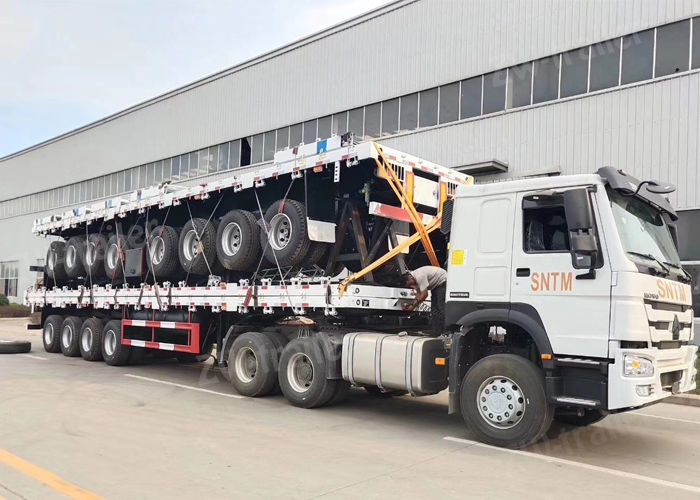 Classification by flat type: 40 ton flatbed semi trailer is a common vehicle for road transportation, because it is more convenient to load and unload large and heavy goods, and it can load more goods than other types of vehicles of the same specification, which is favored by transportation units. Among transportation vehicles, 40 ton flatbed semi trailers are generally divided into two types, one is flatbed and the other is high-low board. The flat board is generally 4 meters to 13 meters long, and the vehicle length above 13 meters is mostly high and low boards.