12m 20 Foot Flatbed Semi Trailer
12m 20 Foot Flatbed Semi Trailer
zw-trailer

Shandong

35 days

150 sets
12m flatbed semi trailer is a basic type of the semi-trailer, versatile in medium and long-distance transportation. It also can be used to transport building materials, lumber and other cargoes with large dimension, so it will reduce your cost and facilitate you business.
The configuration will be designed by our engineers in accordance with clients' requirements. We choose reliable tires, such as Triangle, Linglong and other China's famous brands, which are optional. We also adopt celebrated axle brands, such as Fuwa and BPW.
12m flatbed semi trailer is specially designed for the transportation of various containers such as 20, 40, and 45 feet. 12m flatbed semi trailer has a reasonable structure, reliable operation, and beautiful appearance, giving full play to the full potential of the vehicle. The various products can meet customers' individual needs. The manufacture of the flatbed semi trailer is guaranteed by tooling, with stable quality and reliable performance.
Features about 20 foot flatbed trailer
1. Integral girder structure: welded and formed by imported fully automatic tracking submerged arc welding machine, which has good elasticity, high stubborn strength and anti-side deformation. In addition, the unique multi-angle structure of the longitudinal beam strengthens the bearing capacity and anti-deformation ability of the entire longitudinal beam.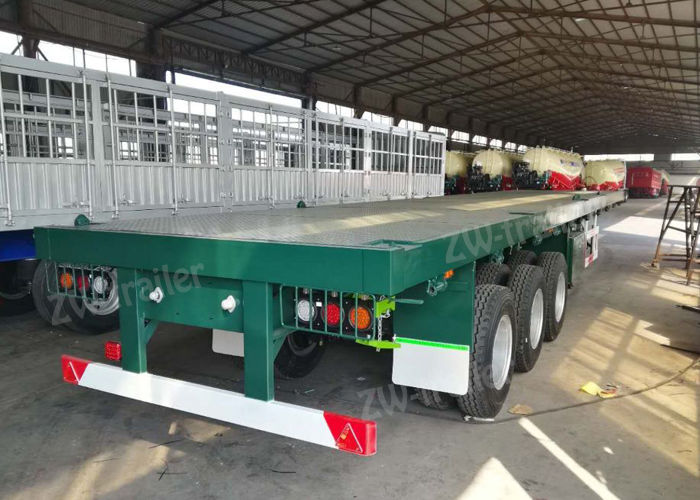 2. Beam structure: the special beam structure can better disperse the gravity of the cargo and reduce the damage to the frame and floor of the cargo.
3. Large-diameter balance arm shaft pin: In order to be more suitable for transportation under heavy load and complicated environment, large-diameter balance arm shaft pin is adopted, which is impact-resistant and heavy-load resistant.