Used Tri Axle 53ft Flatbed Semi Trailers
Used Tri Axle 53ft Flatbed Semi Trailers
zw-trailer

Shandong

35 days

150 sets
The cheap used semi trailers middle container locking device is provided with an integral long beam to improve the bearing capacity of the container locking device.
Our used 53 ft flatbed trailer are made of high-strength international steel with strong resistance to twisting, shock and bumps to meet different road load carrying capacities.
The used tri axle flatbed trailers design is reasonable, and the main beam of the I-beam is used to increase the bearing capacity and improve the stability of the whole cheap used semi trailers.
The used tri axle flatbed trailers suspension system of used semi cattle trailers has strong impact resistance. used semi trailers use streamline design concept, simple appearance, eliminating the need for cumbersome decoration. The streamline design of this model can reduce the vortex and turbulence when the oncoming airflow passes through the vehicle, thereby reducing the air resistance.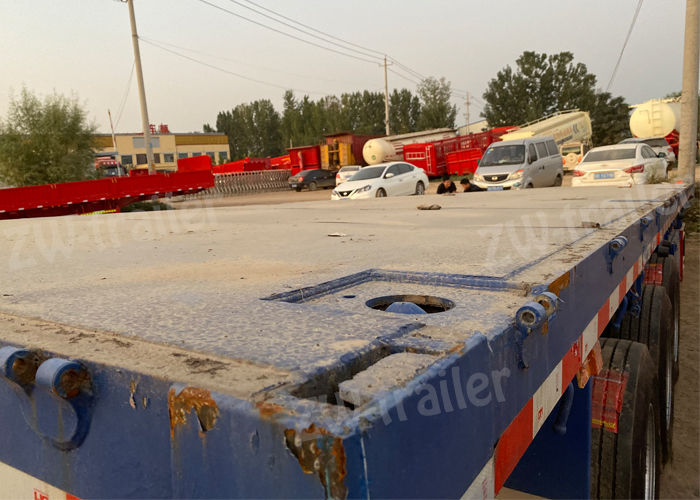 1.The used semi trailers use high-elastic vacuum tires can enhance the load-carrying capacity and service life of the trailer, and reduce the damage caused by the bumps of used tri axle flatbed trailers during the driving process. 2. The double suspension type slewing bracket can adjust the balance and stability of the used 53 ft flatbed trailer by itself. 3. The used tri axle flatbed trailers pin material of each joint part is made of alloy steel and processed by special treatment.
As a manufacture, we also deal on used tri axle flatbed trailers. We choose quality second hand flatbed trailers in good condition. The I shape beam is made of Q345 or T700 steel, and the upper, middle and lower plate are thick enough to support huge mass and adapt to terrible road conditions.