Sinotruk Howo 6x4 A7 Tractor Truck
Sinotruk Howo 6x4 A7 Tractor Truck
HOWO

Shandong

35 days

150 sets
A tractor unit (prime mover or traction unit) is known as truck head or trailer head, a characteristically heavy-duty towing engine that provides motive power for hauling a towed or trailered load. The tractor-trailer combination distributes a load across multiple axles while being more maneuverable than an equivalently sized rigid truck. The most common trailer attachment system is a fifth wheel coupling, allowing rapid shift between trailers performing different functions, such as a bulk tipper and box trailer. Trailers containing differing cargoes can be rapidly swapped between tractors, eliminating downtime while a trailer is unloaded or loaded.
Howo A7 tractor heads are manufactured by Sinotruck group, the biggest truck exportation manufacturer. With a great reputation, Howo A7 tractor heads have demonstrated its reliable function, high cost competitiveness and loading capacity. Based on these characteristics, we present clients Howo A7 trailer head, promoting them in China and abroad. To provide more options, we prepared 6*4 and 8*4 drive types. Meanwhile left hand drive or right hand drive are optional. Owing to different traffic regulations, clients from different countries and choose left hand drive or right hand drive. The drive type can be customized upon clients choices.The rated power and kw/rpm ranges from 249/1900 to 309/2000. The dump truck has AMT or MT transmission for clients' option. HW13710, HW15710, HW 19710(A), HW19710T, HW-9712, and HW20716, several transmission models can be chosen according to needs.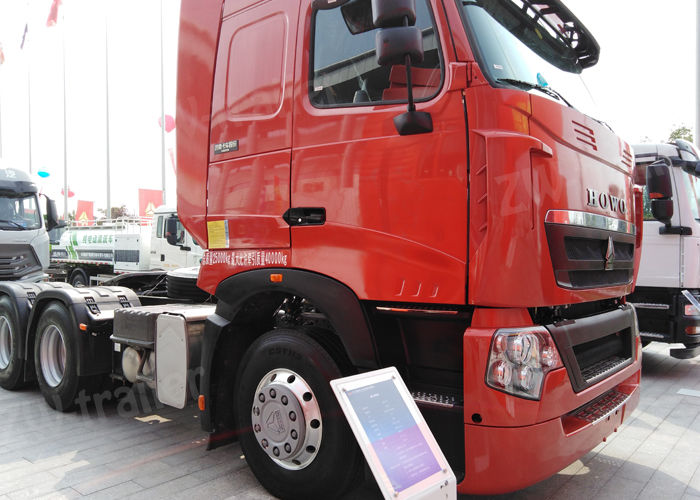 At the same time, overdrive gear and aluminum casing are optional, and ZF transmissions are optional. Finve types of cabin, including A7-P, A7-G, A7-W, A7-V, and A7-B. Clients can choose long cab or standard cab, also low floor or high floor. Low floor A7 Howo cabin has 1 bunk, and high floor A7 Howo cabin has 2 bunks. Meanwhile to adapt the African, Southeast Asia, Middle Asia and other markets, we choose trucks with Euro 3 emission standard. Because of this, our clients will have a relatively low maintenance cost.