Sinotruk Howo 420 Trailer Tractor Truck Head
Sinotruk Howo 420 Trailer Tractor Truck Head
HOWO

Shandong

35 days

150 sets
howo 420 trailer tractor truck head is a traditional commercial vehicle built by sinotruk group, which combines the advantages of Mercedes Benz technology, German man technology, Steyr technology and sinotruk's own technology. sinotruk howo 420 trailer tractor truck head is the real lightweight road transport vehicle of SINOTRUK.
This series of sinotruk howo 420 trailer tractor truck head adopt Mercedes Benz technology cab, German man technology adjustment site, and according to the domestic transportation environment and user use characteristics of the body. Power transmission, frame and suspension system awaken the adaptive optimization matching, which makes the vehicle's weight lighter, fuel consumption lower, reliability higher, safety better, and can better improve the transportation efficiency of users.
The platform of howo 420 trailer tractor truck and modular design is adopted. While the design reduces the self weight, the all aluminum alloy gearbox (optional) is adopted. The use of single-layer frame, road alloy oil tank, lightweight saddle, less leaf spring, vacuum tire and other new materials can reduce the self weight of the whole vehicle. In the apparent state, more goods can be carried.Through the power matching optimization of man technology, combined with the characteristics of domestic road transport standard load logistics and transportation, a new generation of systematic sinotruk howo 420 trailer tractor truck head developed by ourselves can reduce fuel consumption by 10-13%, which is equivalent to saving more than 40000 yuan for users every year.When a vehicle is fully matched with a fast gearbox or a fast bridge, the maximum speed or economic speed of the vehicle is more than 20% higher than that of a matched direct gearbox, and the transportation efficiency of the vehicle running the same transportation route is more than 20%, with more obvious benefits.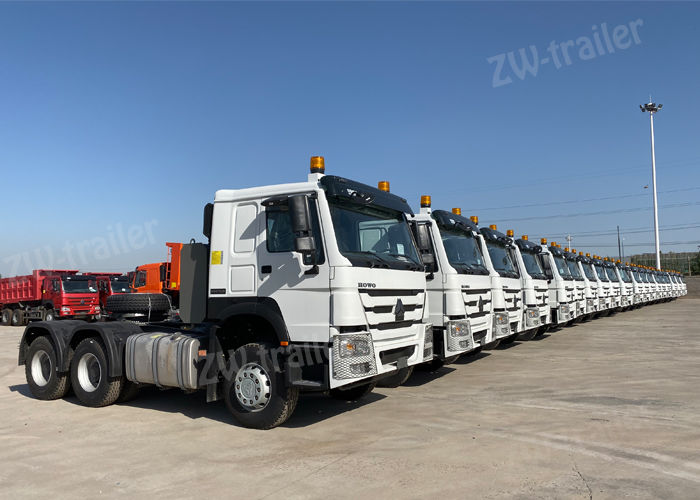 The new generation of sinotruk howo 420 trailer tractor truck head with independent brand, the most advanced and the highest grade for domestic and foreign markets is developed based on the design concept of maximizing customer value and the latest development trend of sinotruk howo 420 trailer tractor truck head with more than 40 years of experience in heavy truck research and development, and the world's leading heavy truck technology.