20 Ft 50t Skeleton Shipping Container Trailer
20 Ft 50t Skeleton Shipping Container Trailer
zw-trailer

Shandong

35 days

150 sets
20 ft 50t skeleton shipping container trailer is a common kind of skeleton semi trailers which is specially used for transportation of various containers. This 20 ft 50t skeleton shipping container trailer can be used repeatedly for a long time and has high strength characteristics. 20 ft 50t skeleton shipping container trailer is widely used in modern logistics transportation. Double-pull pin structure can be used to transport 20 ft container trailer and front probe boxes. A lock beam can be installed in the middle to stabilize the container. This kind of 20 ft shipping container trailer has the characteristics of low bearing surface, light weight, high reliability, strong applicability, etc.
This kind of 50t skeleton trailer is a kind of 20 ft shipping container transport semi trailer's frame and another type is flatbed semi trailer. The 50t skeleton trailer is made by welding longitudinal beams, transverse beams and front and rear beams. Longitudinal beams are made of high-quality steel plate 16mm, submerged arc, welded into I-shape (the main dimensions are 450, A500). The cross beam is stamped into a groove with high-quality steel plates, and the front and rear beams are welded rectangular sections. Integral long beams are installed container locking device in the middle to improve the 50t skeleton trailer's carrying capacity.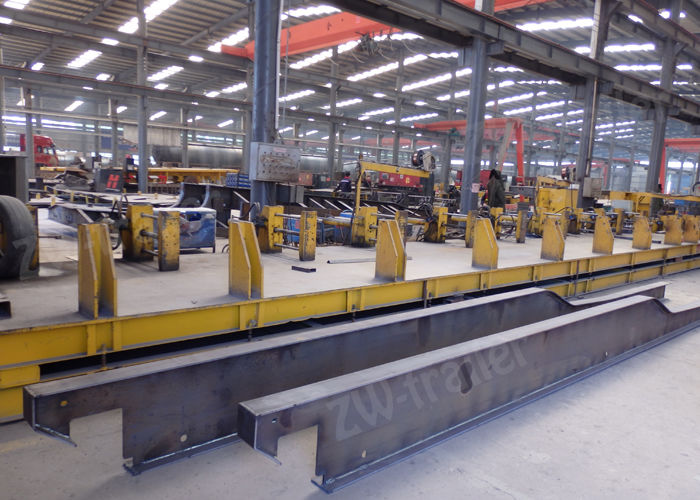 The difference between the flatbed semi trailer and the 50t skeleton trailer is that the flatbed semi traier adds a frame and a platform. Wooden semi trailers are made by shot blasting. The entire frame is assembled and welded on a dedicated positioning stand, reasonable structure, high strength and beautiful appearance. The lock device is installed on the frame of 50t skeleton trailer, which can load two standard containers of 40 feet and 20 feet.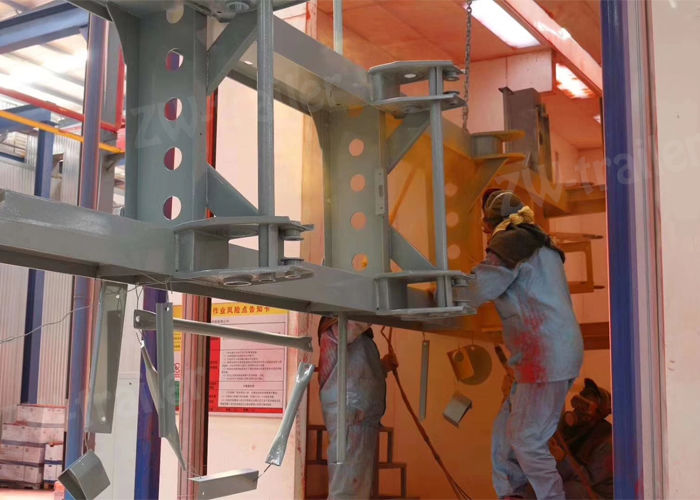 They are mainly composed of support disk, screw drive mechanism, reduction box and joystick, etc. There are three types of suspension devices for this 50t skeleton trailer: single-axle suspension and dual-axle suspension and three-axle suspension. This 50t skeleton trailer is equipped with two pairs of spare tire frames, which are respectively installed on the left and right sides of the trailer frame, and are equipped with spare tire lifters. These 50t skeleton trailers adopt streamline design concept, simple appearance, eliminating complicated decoration. The normal speed of transportation vehicles is usually more than 100k per hour.